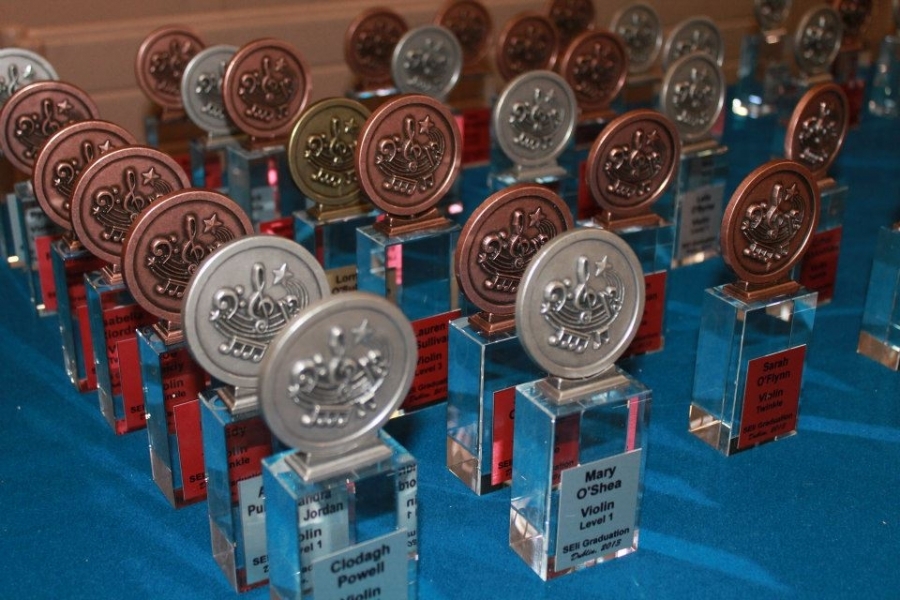 National Graduation
Graduation 2020
Sunday March 29th
Black Box Theatre, Dyke Road, Galway City
Rehearsal Timetable will be added at a later Date.
The Concert will commence at 3pm Sharp
Concert Dress: Concert clothes, 'Sunday best'. No sports gear, jeans or runners.
All violins/cellos/violas/bows/cases and shoulder rests must be labelled with the students name.
Trophies will be presented on the day and group photos will be taken after each performance, please note individual photos can be taken at leisure in the foyer of the building after the concert.
Early arrival is recommended. There is ample parking available on site, some pay and display and some free.
What is "Suzuki Graduation"?
For many years during his teaching career and even after he stopped teaching, Dr. Suzuki invited children to send him a recording of their performance of 5 particular pieces which he chose as the Graduation pieces for the 10 violin books. He listened to each of these recordings himself and wrote encouraging comments to each child which he sent back along with a gift of one of his watercolour paintings. Every student who sent a tape graduated. Since Dr. Suzuki's death the teachers in many countries around the world have initiated similar Graduation ceremonies for their students as a mark of respect to Suzuki's philosophy of encouragement to each child on their journey along the road of mastering their instrument. Graduations celebrate the achievement of completing each book, refining the skills learned and enhancing musical performance at each stage along the way.
Can anyone take part?
Each trained Suzuki teacher member of the Suzuki Education Institute of Ireland is asked annually to recommend students who have completed a full book to a high standard: all pieces have been memorized and are being reviewed regularly; posture, intonation, beautiful tone and instrumental skills have been carefully practised so the student can perform musically with ease. The names of these children each year are sent to SEIi as a record of achievement. If parents and children wish to participate in a Graduation, they can do so with this recommendation.
What do we have to do?
When recommended, you make an audio recording of the Graduation piece for the Level of your Graduation with the help of your teacher. You would be recording with an accompaniment CD, so you must be able to play up to the speed of the CD comfortably but still phrasing musically and adding dynamics. Every note needs to be clear and in tune with correct rhythms. This recording will be sent to SEIi and then on to another Suzuki teacher who will listen to your recording and write a report with comments on your performance, to be given to you at the Graduation Concert. At the Graduation Concert everyone will play their Graduation pieces together. They will receive their comments sheet, Graduation Certificate and Trophy. Everyone starts with 'Twinkle' and works their way up through the books. You can Graduate at more than one Level if your teacher recommends it, but you cannot skip any Level.
What is gained by participating?
In the true 'spirit of Suzuki' teachers and parents who have already participated in Graduations in other countries, in particular the British Suzuki Institute and the Suzuki Association of Minnesota, have shared their thoughts and experiences with SEIi. In every country students graduate from any level only when they have moved well beyond their Graduation piece: when their skills are sufficiently developed to ensure a confident musical performance every time the piece is played. Parents and students find it exciting to strive for an excellent recording performance. Many teachers feel that the process of producing a good recording of the Graduation piece is the greatest benefit of Graduating. Younger children see the older students as role models and strive to be like them, and all students are motivated to keep moving on to the next level. All of the teachers cite the pride of the participating children as they receive their trophies and certificates as the special moment of Graduation. Parents often ask how to motivate their children to practise. This is one of the best ways!
When, where, and how much?
The Graduation Concerts will rotate between Dublin, Galway and Cork like the Summer Camps. Each region will have Graduation, then Summer Camp, then a year off. This coming National Graduation Concert will be held in Cork, Sunday 11th March 2018, in Cork School of Music. The fee includes administration costs, the certificate and trophy and a donation towards the venue and presentation costs. Each area will attempt to keep the costs as low as possible. Our fee reflects the costs involved in a commercial music exam.
Levels Twinkle, 1 & 2: €30 / Levels 3, 4 & 5: €35 / Levels 6, 7 & 8: €40